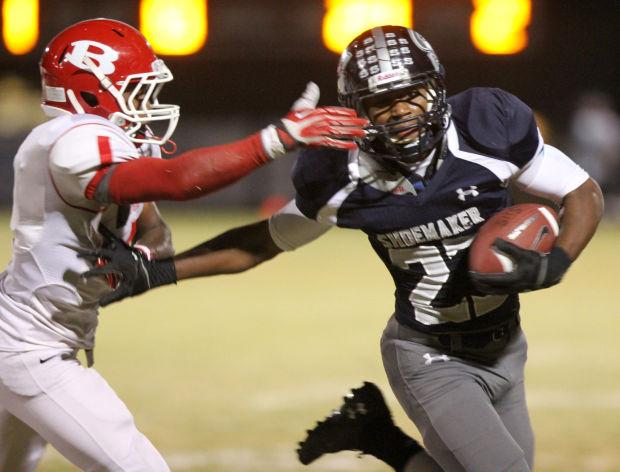 Pop Quiz: Rayshun Spearman | Pop Quiz
Rayshun Spearman is used to running in front of opposing defenders. This week he will be looking to run into the history of the school.
The Gray Wolves are in the playoffs for the second time in school history and Spearman is a major contributor on a team that finished third in District 8-5A.
Spearman has rushed for 814 yards and nine touchdowns this season, including scores of 6 and 9 yards in a 34-9 win over Ellison who landed a playoff berth.
Shoemaker is aiming for his first playoff victory in school history when he faces Mansfield Timberview at 7 p.m. Saturday at Floyd Casey Stadium in Waco.
Is it any different from preparing for a playoff game this week?
Yes. Usually the season is over and we are currently in the offseason. It's an honor to go to the playoffs and do something good for our school.
How was it on campus this week?
They (the classmates) congratulated us and said how well we are doing because they are not used to a football team winning.
Was there a turning point where you knew you had the confidence to make the playoffs?
Right after the back-to-back losses to (Copperas) Cove and Temple, we went back to the drawing board and watched the movie. We went out to try to make a statement and win the rest of our games.
What makes Timberview stand out?
Their defense really stands out. I know they have a good high school with guys who can play.
What do you love most about football?
I have the impression that we can gang up on people. Saying that you are angry is a good way to release your emotions.
How did you find out about the game?
Since I was little my dad played ball in the backyard, and when I got to first grade I fell in love with the game and have been playing it ever since.
What made a difference for this team on the home stretch?
All the hard work we put in – the extra work, staying focused, and staying humble as we try to achieve our goal.
What do you think it will be like to play in a playoff game?
It will be an honor because most teams don't make it to the playoffs and we haven't made it to the playoffs since 2008. It's a little weird but, at the same time, it feels good.
Does the possibility that this is your last game make you nervous?
We will, but if we go out, give it our all and play as a team, we will come out on top.