Senior Jasmine Manansala talks about "Jeopardy!" lessons learned, friendships forged after game show appearance | Rice News | News and Media Relations
Trivia fans around the world got to know Brown College senior Jasmine Manansala last week when she took part in the "Jeopardy!" National College Championship on February 8. For the computer science major — one of 36 participants in the award-winning game show's college tournament — her appearance on the show was a childhood dream.
"It's something that's been kind of a constant throughout my life," she said of the longtime trivia contest, a mainstay of American pop culture for decades now.
Growing up in San Antonio, Manansala says "Jeopardy!" every week. the marathons with his parents are among his fondest memories. "We were taping it throughout the week and then on Friday or Saturday we would go ahead and watch the five episodes we taped in a row. And anytime before, I would have some kind of academic competition…we would watch a few episodes in advance to give me a chance.
Manansala appeared in one of the tournament's 12 quarterfinals, placing second to Louisiana State University's Stephen Privat, who advanced to the semifinals. Although she did not advance, Manansala still received $10,000 for tagging her through to the quarterfinals, which she plans to use for her tuition and corrective eye surgery.
In his spare time, Manansala is part of the Rice's Quiz Bowl quiz team and loves taking quizzes from Sporcle.com. She is also an associate coordinator at Brown and a member of Rice Design.
Manansala's path to the "Jeopardy!" The stage in Culver City, Calif. began in the fall of 2020, when she threw her hat in the ring while taking a free online general knowledge test for students interested in appearing on the game show. Shortly after, she received an email inviting her to take a 50-question "in-person" live test conducted over Zoom.
"I felt pretty bad after the second round because there was a bunch that I knew I had missed, and I was like, 'OK, I'm not going to progress after that,'" admitted Manansala. "But after that, I got an invitation to do a mock game and a mini-interview with other people who had passed both rounds of the general knowledge test."
After participating in the fictional game in January 2021 during the winter break, the wait began in earnest. "I only heard around the summer that I was in the last group to be chosen," Manansala said. "My place was not yet confirmed, and it wasn't until October that I heard confirmation that I would indeed be in the tournament."
On that fateful day in October, Manansala was actually having a nap when she received the call. "I think I had just woken up from a nap at the time, because I know I missed a call from 'Jeopardy!' and I felt really bad about it.
"I called back and said I'm sorry and then I heard the news that I was going to be in the national college championship. I don't think my brain has quite processed it yet because that I was still in half-asleep, half-apology mode, so it took me a second to actually understand what was going on," she said with a laugh.
In the month between the news breaking and her departure for California for filming in November, Manansala learned that the only people she could tell about her upcoming appearance were her parents, as well as the teachers she should have. skip class to make the trip. . "I'm glad they were excited because it also meant I got some time extensions, which I think was one of my favorite parts," she said with a laugh.
Manansala and his fellow contestants were finally allowed to spread the word about their upcoming "Jeopardy!" appearances about two weeks before the first episode of the college tournament airs on February 8. In the meantime, Jasmine has been practicing for the game with the free fictional games themed "Jeopardy!" from the online quiz site Protobowl. That said, always Rice's diligent student, Manansala didn't let her preparation distract her from her studies.
"I was also quite busy with classes, and I hope I made the right choice, but I was prioritizing the classes I had rather than actually being able to study for 'Jeopardy,'" she said.
Before the game started, Manansala had her fingers crossed that there was a category on Greco-Roman mythology (she's been a huge fan since elementary school). A self-proclaimed lover of even the most "groan-worthy" puns ("That's what makes them awesome!" she exclaimed), she also hoped to see categories for puns. As for the topics she prayed wouldn't appear on the iconic video board, "I haven't really followed pop culture this year and last year," she said, "so something thing like that, I thought it would really hurt me, stuff like music.
In fact, there's one music question that Manansala says still haunts her — a Double Jeopardy on a $1,600 clue in a topic about electronic music DJs. After fellow Princeton University Ella Feiner answered incorrectly, the question was up for grabs.
"I had the right answer in my head at the time – 'Turn Down for What' by DJ Snake and Lil Jon – but then I kind of dismissed it, (thinking) 'There's no way let that be correct," Manansala mentioned. "But if I had actually rung the bell and answered, I would have had enough money to make the betting situation much more interesting."
Even though Manansala was the only competitor to correctly name the Venus flytrap as the answer to Final Jeopardy, his LSU competitor had amassed enough of a lead before the round that he still had a high enough score to win despite not has not made a bet on the final question.
"I will never forget this for the rest of my life," Manansala said, but swore she harbored no ill will towards Privat. "I was really disappointed at the time that I couldn't move on, but I'm still glad Stephen won. He's a really nice person, so I'm glad he was able to move on. .
Manansala, his fellow candidates and the three students chosen as replacements all stayed in touch through a group chat they started with the GroupMe smartphone app. They had fun sharing memes, tweets and jokes with each other, Manansala said, along with all the kind, funny and sometimes hostile comments about their respective performances that flooded social media. But believe it or not, it was those sarcastic comments that Manansala was most looking forward to seeing.
"I was a little excited that people were being mean to me online, to be honest, because sometimes it's kind of funny," she said with a laugh. In reference to two of her playful responses to questions from host Mayim Bialik where Manansala shared that she was allergic to both peanut butter and salmon as well as Final Jeopardy's response, one fan tweeted, " I'd bet Venus' flytrap would send her into hives," "which I found really funny," she said.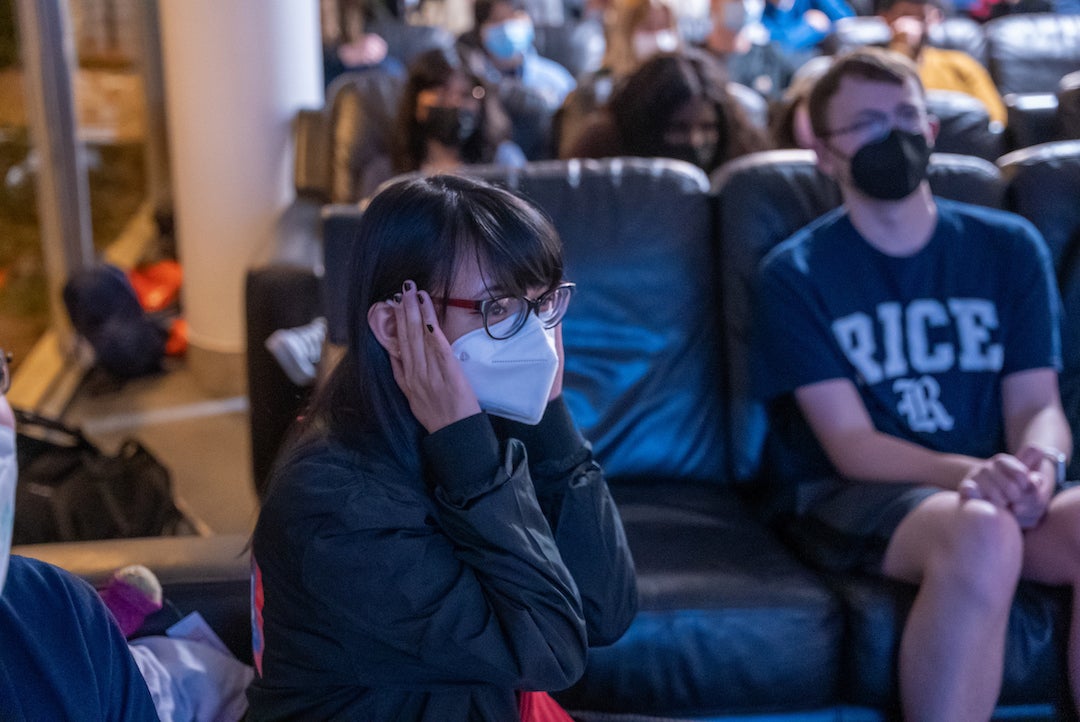 On the night the Manansala episode aired, she was joined by a plethora of her friends and supporters from Brown College. They filled the Brown Commons to watch their friend compete live, wildly applauding every correct answer she gave.
"It made me feel so good," Manansala said. "It gave me such a boost of confidence. It makes you feel really hot," she continued, her voice cracking with emotion.
Above all, Manansala is very grateful to her parents for inspiring her to take the leap and compete on such a big stage. "My dad has really been a driving force in encouraging me to follow whatever I want to do, even if the end result seems unlikely," Manansala said. "If it wasn't for him, I don't think I would have been motivated enough to continue."
Manansala's mother, too, "has always been an incredible source of support," she shared. "She's worked so hard as a registered nurse to make sure I can really follow the things that make me happy. In fact, she couldn't see my match until the end of the week since she had been working the last few nights.
For all his fellow Rice Owls intrigued by the prospect of taking on some of the brightest students in the country, Manansala said, "My biggest piece of advice is to go for it. Take the first step, take the test anytime. And if there is a moment when you doubt yourself, just try to overcome that fear and really go as far as you can.
"I didn't think I would go as far as I did, but every time I heard something new I surprised myself," she said. "And it really stuck with me that if I had just a little bit more confidence when I was on the podium then I could have potentially won. So don't doubt yourself. If you feel like your heart is going in a certain direction, follow this path.
Due to the fun she had, Manansala regrets that this "Jeopardy!" the experience will be his last. National College Championship contenders are not permitted to participate in the original version of the show or in future college tournaments.
"At least it's a fun fact that I can tell people I'm banned from competing on 'Jeopardy!'" she said with a smile.