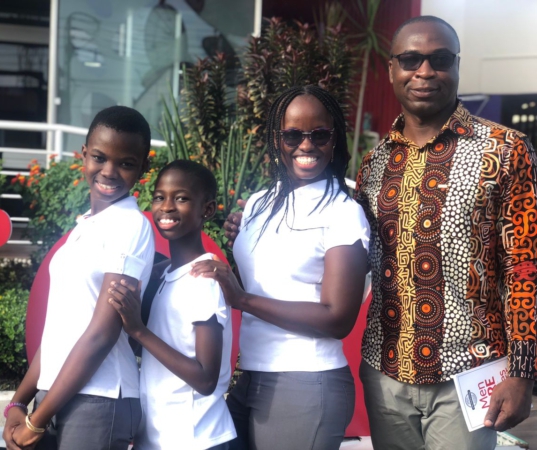 The Sarpongs win Episode 2 of Joy FM Family Pop Quiz
Hooray! The Sarpong family came out on top in the second episode of the Joy FM Family Pop Quiz.
The quiz took place on Sunday, May 8, as three lovely families took part in exhibiting their in-depth knowledge in various fields. After three exciting rounds, the Sarpong family returned home as champions.
The Sarpong family is made up of four members, a father (Philip), a mother and two daughters. The family, whose motto is "you only live once, so make the most of this God-given opportunity", was represented by an all-female team; Ivy (mother), Mellisa and Vanessa (daughters).
In a hard-fought quiz, the Sarpong family scored a total of 39 points, beating the Yawsons by just 2 points.
The all-female Sarpongs team showed smarts to the delight of the listeners, especially because two of its representative's minors; 13 and 10.
The winning family could not hide their joy, as Ivy, the mother of the family, expressed her desire to return to competition.
She said, "I know Joy FM, I suspect there will be a grand final, and we will definitely come back to compete."
Ivy also mentioned that they are determined to beat all opposition because "we have VIM", an acronym for their names (Vanessa, Ivy and Mellisa).
Joy FM Family Pop Quiz sponsors First National Bank offered the youngest contestant a starter banking package, while Labadi Beach Hotel is offering the Sarpong family a buffet lunch free of charge.
The family also enjoys a night at the Volta Hotel, as well as a Dodi Princess ride. All of the participating families, including the Yawsons and the Ababios, went home with boxes of Cheezy Pizza.
Congratulations to our family of the week; the Sarpongs, for emerging winners of the second episode of the Joy Fm Family Pop Quiz, airing every Sunday, 3-4 p.m., on Joy 99.7 FM
Your family can also participate by simply sending your family name, as well as the names of three participating members via Whatsapp to 0551111997.