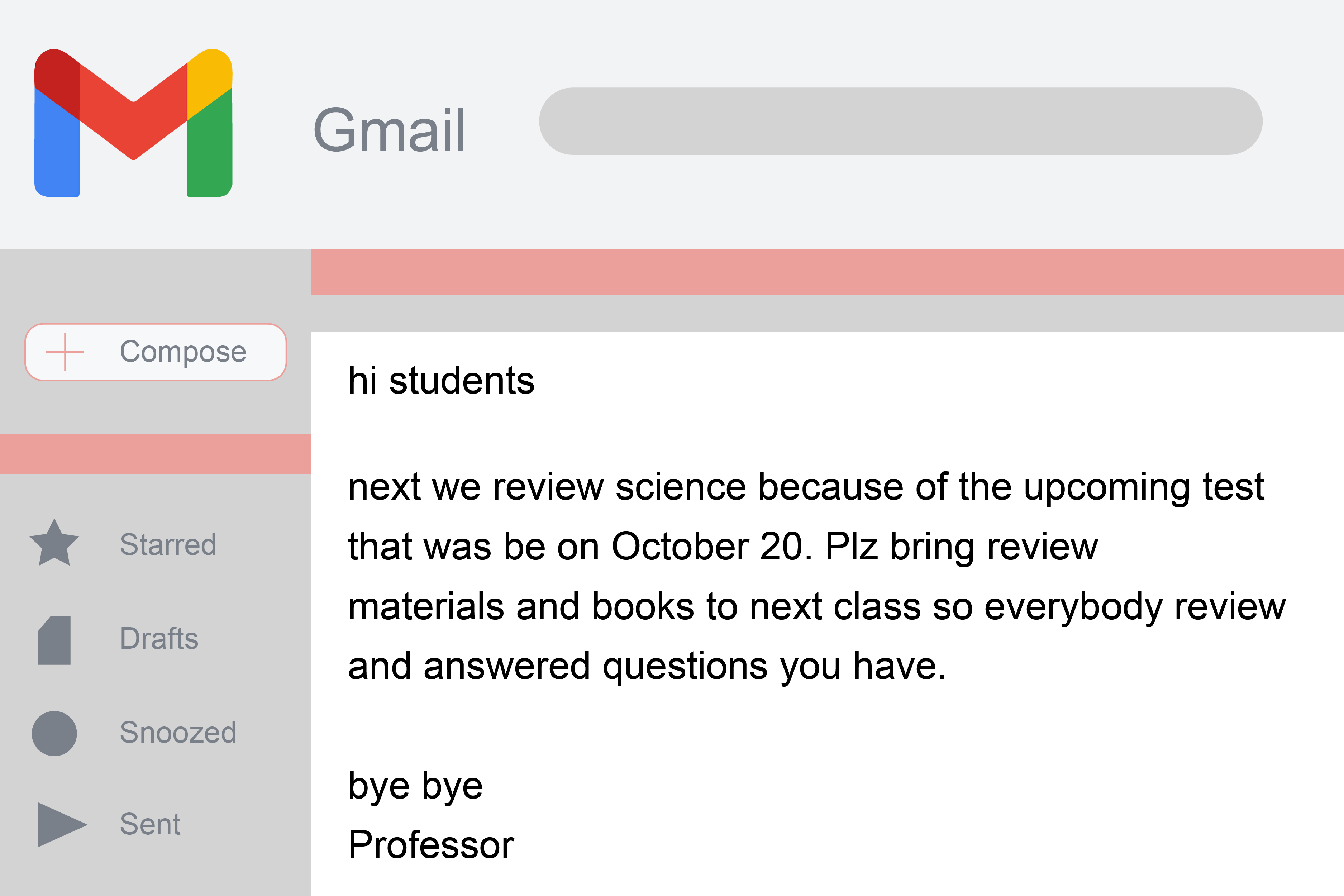 Welcome to the hottest new game show: Was that email written by a drunk 8-year-old or your homeroom teacher?
When the emojis come out, everyone can guess
Host: Hello and welcome to the latest UC Davis game show! Today we welcome three undergraduate students who will compete for the most sacred prize of all: two extra credit points. Let's meet our competitors. Tyrone, it says here that you're a first-term senior planning to switch from chemical engineering to anthropology. How do your parents feel about this, Tyrone?
Tyrone: What's wrong, John?
Host: My name is not John and this is not "Jeopardy". Sasha, let's hear a bit from you. Is it true you've been dating the same guy since sophomore high school?
Sasha: Of course!
Host: And how is this relationship going?
Sasha: Pretty bad, John. We both went to the same college because we thought we would last forever and now we constantly cheat ourselves.
Host: Again, my name is not John. I don't really have the right to have a name. Let's move on to Jake. Jake is actually a film and digital media specialist and this game show is a major requirement for him. Oh, he's already sleeping. Anyway, let's get started! Audience, what is the name of the game?
Public [garbled and out of time]: Was this e-mail written by a drunken 8-year-old or your homeroom teacher?
Host: In all honesty, that song was a lot to ask of you. Okay, the first email is: "K. Sent from my iPad." Candidates, what do you think?
Sasha: I'll say "teacher".
Host: You are right! This is the same teacher who shows you 45 pictures of his school-aged children and will never grade the curriculum quiz. Next email, "you can get up whenever you want :)."
Tyrone: What is the "professor"?
Host: Bad luck, it was actually a drunk 8-year-old. We let him run around an abandoned Chuck-E-Cheese and he found tequila in a hamster bottle. Oh look, Jake is waking up. Jack, listen. This is essential for your major. You might not graduate if… and he's sleeping again. [pauses] Listen to this? The sound of people passively and aggressively closing their backpacks means we're out of time. Sasha, congratulations! What will you do with your two extra credit points?
Sasha: I think I'm just going to sleep with Tyrone.
Tyrone: Honey!
Host: Okay. Audience, remember not to read for next time! It was…
Public [overlapping and muddled]: Was this e-mail written by a drunken 8-year-old or your homeroom teacher?
Host: We will work on it.
Written by: Annabel Marshall — [email protected]
Warning: (This article is humor and/or satire, and its contents are purely fictional. The story and the names of the "sources" are fictitious.)